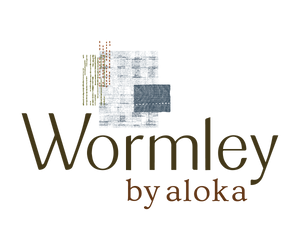 High Note Craft
WORMLEY by aloka defines a new mood of the moment—high note craft— mixing designs by one of the foremost American creators of modern furniture with our one-of-a-kind vintage textiles.
Aloka, in partnership with DUNBAR Furniture, custodian of the Edward J Wormley archives, presents a collection of casegoods and upholstered seating in wholly unique materials, giving fresh voice to enduring designs. 
The range of contemporary collectibles is crafted in High Point, North Carolina. 
Shop The Collection
About Edward J Wormley
Leader of American Furniture Design for Forty Years
A leading American furniture designer for over four decades, Edward J Wormley possessed a personal flair for embracing modern trends without a total departure from historical influences. His ability to combine the finest materials with outstanding craftsmanship became the cornerstone of his design statement. Wormley's significant, personal contribution to modern design has earned him a position along side his noted contemporaries: Harry Bertoia, Charles Eames, George Nelson, Jens Risom, and Eero Sarrinen.
Edward J Wormley was born on December 31, 1907 in Oswego, IL, a small community west of Chicago. He attended the School of the Art Institute of Chicago from 1926 to 1928 and took his first job in the interior design studio at Marshall Field & Company department store. In 1931, he was recruited by DUNBAR and quickly became their Director of Design. Wormley's tenure as Design Director spanned over thirty years and is considered one of the most historically meaningful between a designer and manufacturer.